How To Build Your Direct Sales Team By Finding Offline
Recruits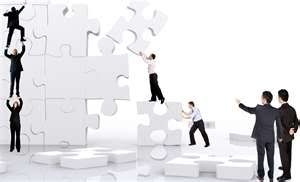 Build Your Direct Sales Team
With the advent on online recruiting, direct sales consultants may neglect the all-important task of searching for new team members locally. But when your build your direct sales team with offline recruits it is still a tremendous way to grow your direct sales business and one you should use from the start.
Here are a few ideas for promoting your business to build your direct sales team and hopefully gaining new recruits, around your own town:
Place a newspaper ad to build your direct sales team –
Post a small classified ad in your local newspaper or community shopper. These ads can pay for themselves with just one new recruit and can help get the word out about your business opportunity every week.
Create a simple flyer to build your direct sales team –
Ideally, you'll want to create a flyer with tear-off tabs on the bottom with your phone number, website, and email address. Then, post these flyers all around town at banks, laundromats, dollar stores, book stores, libraries, music stores, thrift shops, universities, trade schools, daycares, and other businesses with bulletin boards designed for this purpose. Keep a list of everywhere you posted your flyer, and make it a point to routinely check back and ensure your flyer remains on the board in good condition.
Use business cards to build your direct sales team –
Business cards have been neglected lately, but they shouldn't be. Be sure you have good business cards printed with simple information about your business opportunity. Of course you'll want to include complete contact information, as well. Now, hand them out to everyone you meet. Ask friends and family members to help you get the word out by distributing your business cards in their workplaces or stores they frequent.
Join a local business networking group to build your direct sales team –
Promote your business opportunity with like-minded individuals. While some of the larger groups may be cost prohibitive, smaller groups can be surprisingly affordable. If you can't find a local networking group, start your own. They're easy to operate and you may be surprised how many other small and home-based business owners might be looking for just such an opportunity to promote their own businesses.
Join a community job fair to build your direct sales team –
Set up a booth and spread the word. Hand out brochures about your company, answer questions about your business opportunity, and make yourself available to anyone who's interested. Hold a drawing for a free gift as a means of gathering potential leads to add to your mailing list, as well as creating goodwill. Don't forget a treat, like free cookies, will almost always slow down a passerby for at least a few minutes to hear about what you have to offer.
Create imaginative recruiting bags and gifts to build your direct sales team –
Take a clear plastic bag or gift bag and fill with a few fun and informative items like:
a copy of your best commission check
a brochure about your business opportunity
an opportunity CD or DVD, if applicable
a sample product
a miniature $100,000 or Payday candy bar
a business card
Add some colorful shredded paper and seal with a decorative label that lists all your contact information. These make great tools for reaching new recruits in banks and stores you frequent. Don't forget your own home parties you host for your direct sales business. Be sure to keep these recruiting gift bags handy and hand them out to prospective recruits at each party.
There are a number of ways to build your direct sales team with offline recruits. The key is to look for opportunities to share your business with everyone you meet and your team will start to grow before you know it!
Just a reminder, even though we can get caught up in online marketing you still, every once in awhile, focus on your efforts to build your direct sales team offline.
Comment Using Your Facebook
comments